Our Crew
Molly
Service Writer
Hey! My name is Molly. I've been working at Doc's in July of 2019 and absolutely LOVE it here! I work as a Service Writer. I started here knowing a very small amount about motorcycles, but now, I've gained so much knowledge. I have 2 kids and an amazing boyfriend so I spend my free time with my family, shooting guns, and riding four wheelers. I don't currently ride a motorcycle but I am looking forward to what the future brings!
Marcus
Assistant Service Manager
I started working at Doc's in 2009 at 16 years old. I started as a Zookeeper, worked in Parts, & then moved to Service. I ride a 99' Lowrider & an 83' Ironhead Sportster. I've been around Doc's most of my life & plan on many more wonderful years.
Joe
Service Technician
My name is Joe, & I'm a Service Technician at Doc's. I've been working at Doc's since 2008. I've been in the HD industry since 2003. Outside of work I enjoy camping, hunting and spending time with my wife and 3 boys. I use to drag race Harleys. My favorite Harley and dream to own one day would be a 1980 Wideglide.

Casey
Motorclothes Manager
Jeff
Parts Manager
I started at Doc's in 2005. I currently own a 95' Road King & an 08' Night Rod Special. When I'm not working, I enjoy spending time with my family. This is one of the most unique dealerships I've ever seen. Doc has created a destination that offers something for everyone. We all work as a team to keep it growing.
Rick
Sales Manager
I started part time at Doc's in 2003. I am currently the sales manager and finance manager. I ride a Street Glide Special. My hobbies are vacationing, riding my bike, & going to the Harley drag races. I've been married to my wife Connie since 1996. I have 3 grown kids & 5 Grandchildren. I love animals & currently we have 2 dogs a saint bernard named Miss Molly and a husky named Malibu, 2 cats (Smokey & Turbo) & a blue and gold macaw named Angel.
Toni
Customer Service & Warranty
I've been here a total of over 25 years. Lots of changes and lots of amazing people in that time. I ride a 2019 Tri-glide and love getting out to see our great country. I have 4 grand daughters and love to spend time with them too. Parts, motorclothes, if you have questions, I'll do my best to help you find the right answers. It may seem like a zoo sometimes, but we can help you without too much monkeying around...
Tina
Customer Service
Riding Academy Program Manager & Customer Service
Deb
Customer Service & Rentals Coordinator
I started at Doc's in 2014. I work in customer service and also manage the Rental program. I love people and have met so many awesome people while working at Doc's. I am very passionate about the dealership and all that it offers. I am married to my husband Brian (33years) and we have 3 children and 2 grandchildren. My family is my greatest blessing. Brian and I love to ride and have traveled the country on our Ultra Classic. Outside of work I am a self proclaimed shopoholic and love to decorate and garden.
Heidi
Customer Service
I have worked at docs part time since 2012. My favorite event at docs is our turkey blow up in the fall. I love talking to all of our customers and listening to the stories of where you're riding to or trips they are planning. I ride a 2015 Road Glide Special. You can catch me at Doc's most weekends!!!

Kim
Customer Service
I'm Kim, I've been working at Doc's part-time since 2018. In my time here I've met so many amazing people! I wouldn't trade anything I've learned, and continue learning for the world! Outside of work my daughter keeps me extremely busy with the sports and activities she is involved in. In 2019 I got my license and bought a Dyna Superglide Sport, which I enjoy riding in my spare time!
Lisa
Customer Service
I have been a part-time employee at Doc's since 2018. I seek out experiences that I can connect with others, gravitate towards adventure and with a bit of relaxation.
At Doc's I have enthusiasm towards customers coming into the dealership from all walks of life. I enjoy hearing the stories the riders have and living vicariously through them. My passion for clothing helps me assist customers in choosing apparel for both their riding needs and social life. I anticipate the events that the dealership puts on and enjoy participate in them. I am an avid traveler and gravitate towards big cities and the history behind them. I show my creativity through metaphysical aspects, music and drawing.
Andrea
Customer Service
Hello! My name is Andrea. I've been a part of the Doc's crew since Spring 2013. Here at the shop, I help part-time in Motorclothes, Parts, or wherever else they need me. I have had a blast welcoming visitors from across the country and around the world. One of the biggest reasons I like working at Doc's is that it's truly "Like no other!"
I earned my motorcycle endorsement and began riding back in Fall 2005. One of my favorite things to do is test-ride different models of Harley motorcycles. To name a few, I've ridden Sportsters like 883 and 1200 Low, the Nightster, the Rocker, and the Street 500. My family and I enjoy spending time with our friends in the Wolf River HOG Chapter, of which I've been an Associate Member since 2007. I'd love to show you around the dealership and get you geared up and ready to ride. And, I look forward to seeing you on the road this season.
Rhonda
Customer Service & Administration
My name is Rhonda Hopkins . I have been with Docs Harley Davidson for 25 years. I ride a 15 year Anniversary Fatboy. I love all of our animals as seen here I am feeding our porcupine Ralphie. I love to talk with people and explain all the amazing, interesting things we have to offer. I have been a motorcycle enthusiast for many years. Stop in and say hi and I would love share this beautiful life with you.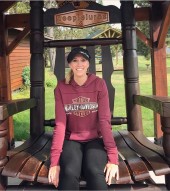 Karissa
Customer Service
I've had the pleasure to work part-time at Doc's Harley Davidson since 2012! During the week I work in Human Resources and join in the fun at Doc's on the weekend. I enjoy playing volleyball, golf, shopping, and riding as the passenger our Street Glide while taking in the fresh air and beautiful scenery. Mostly I enjoy spending time with family and friends making memories. See you when you visit, I would be happy to help you find what you are looking for!
Tara
Customer Service
I'm Tara. I've been part-time at Doc's since about 2011. I drive a 2004 Dyna Lowrider. I took the Riding Academy at Doc's. It's a great atmosphere and an awesome group of people to work with. They go out of their way to help you
John
Riding Academy Coach
John has been a RiderCoach at Doc's Harley-Davidson since 2005. He is certified to facilitate Motorcycle Safety Foundation based courses for new and experienced riders, as well as the beginning course for 3-wheel motorcycles. When he is not facilitating motorcycle courses, he also serves as a quality assurance specialist for the Wisconsin Motorcycle Safety Program. When he is not involved in motorcycle training, he serves as an educational coordinator for 27 school districts in Northeast Wisconsin and a driver education instructor. He is the Safety Officer for the Wolf River HOG Chapter. He rides a 2003 Harley-Davidson 1200 Custom Sportster and a 2003 Road King Classic. In his spare time when he is not riding, he likes golfing, fishing, camping, and target shooting.
Ben
Riding Academy Coach
From my earliest days with the motorcycle sport, I've been passionate about riding gear and overall safety. At age 24 I became a certified MSF RiderCoach here in Wisconsin. I've taught over 1,100 people to ride, and to do so with a safety mindset. The easiest way to keep riders continuing in our sport is for all of us to be aware of the risks associated, and how we each can lower those risks. Currently I'm riding a 2010 Road King Classic, and I love it! She's my favorite colors: black & chrome. I've kept her nearly stock, with only some simple upgrades. I enjoy the roar, the rumble, and the freedom... be sure to wave as you ride by! Cheers!
Shelly
Zookeeper
I'm Shelly. I've been a zookeeper at Doc's since May of 2015. My favorite thing about my job is giving our customers an up close and sometimes hands on experience with our critters! Want to pet a kangaroo or a baby alligator? We can make that happen! Outside of work I enjoy riding my '99 Softail, scrapbooking, and spending time with my husband and fur babies.
Reanne
Zookeeper
My name is Reanne, I'm a zookeeper and I have been at Doc's since August 2019. Animals are my whole life. Not only do I help take care of all of Doc's wonderful critters, but I also have 40 pets of my own on my 10-acre homestead. It's always a pleasure to spend time with everyone here, both animals and people alike. Oh, and my favorite animal at the zoo is Ralphie the porcupine!
Melanie
Zookeeper
I've been a zookeeper at Doc's since 2018. My son and I visited Doc's and I fell in love with Sprockets, the kangaroo. Ironically, there was an open position at the time and I knew I HAD to have the job! I am truly blessed to work with these amazing critters, co-workers, and for an outstanding management team. They've made my "working with animals" dream come true! Come in for a visit and we'll make sure you have an experience like no other!
Natalee
Zookeeper
Hi! I'm Natalee. I've been working as a volunteer zookeeper for the past year and was recently awarded with an official zookeeper position in 2019! My co-workers call me the "bird whisperer" because I get along extremely well with our feathered friends. My favorite animal is Echo, our African Grey parrot because we have a special bond but I love all the animals and I spoil them as much as I can!
Kersten
General Manager
I've dedicated my life to the family business, the greatest dealership in the world, Doc's Harley-Davidson. I've worked my way through every facet & I'm proud to serve as GM. It was through the dealership that I met my amazing husband, Shannon. He began working for our dealership in 1989 at 15. He has dedicated his life to learning every aspect & co-manages at my side. We are a great team at home, at work, & at the drag strip. My greatest love & pride in life are our 3 boys. My hobbies include drag racing my Nitro Harley. I was licensed in 1995, at 16 years old making me the youngest Nitro Harley pilot in history. My personal best ¼ mile is 7.55 sec @ 178 MPH. In 2018, I finished the Cannonball with a perfect score on a 1922 H-D & placed as a Division Class 3 winner. Riding alongside my Dad as he completed every mile is one of my greatest memories.